Client: Nielsen Gallery
Year: 2008
Contribution: content management system, development
About the Client (Nielsen Gallery)
The Gallery, founded in 1963, is committed to exhibiting and supporting contemporary artists whose personal visions resist categorization. Note: As of June 30, 2009, the Nielsen Gallery has closed.
Project Overview
The gallery managed its exhibitions, artist roster, publications, and available works through a series of static files. They wanted a content management system to handle the total lifecycle of their exhibitions. Baizman Design built a custom content management system based on object-oriented PHP 5 and MySQL 5.
Project Objectives
Complete and fulfill the promise of the 2006 redesign.
Replace the flat-file-based system with a database and content management system.
Significantly decrease the amount of time spent on administrative upkeep.
Increase navigability through clearer navigational elements, a well-defined relationship to related information, and pagination
eliminate broken or inaccurate links
Team
Saul Baizman (web programming) and Unknown (visual design).
Homepage.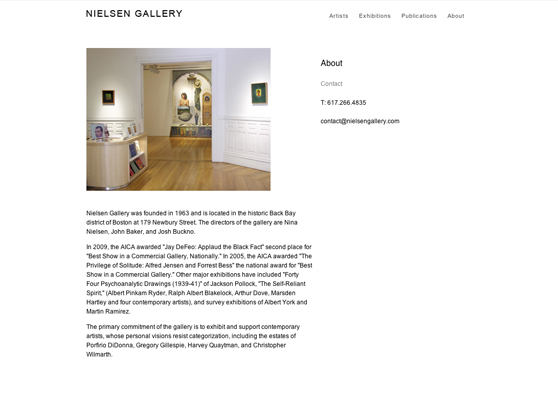 About page.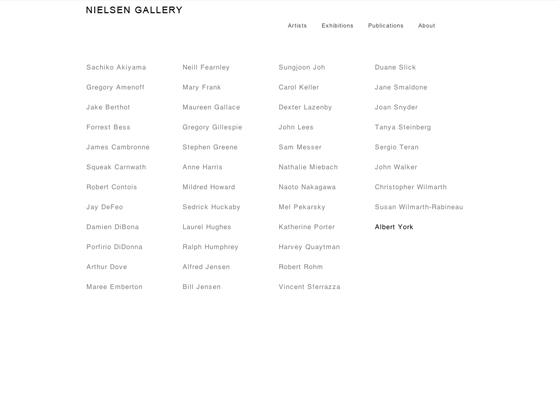 Artists
Exhibitions.
Edit pieces in the custom content management system.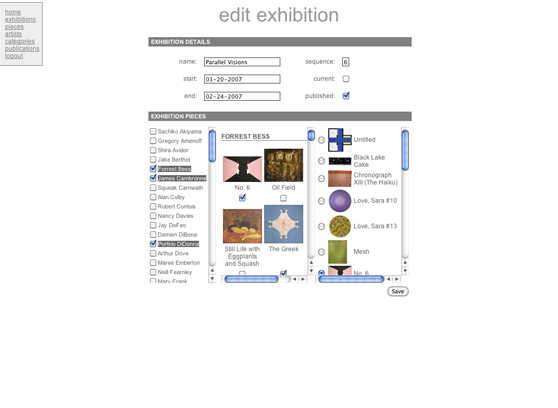 Edit exhibitions in the custom content management system.
Import pieces in the custom content management system. Artwork information for a batch of pieces could be imported through a CSV file.