Client: Community Technology Center AmeriCorps VISTA Project
Year: 2007
Contribution: content management system, development
About the Client (Community Technology Center AmeriCorps VISTA Project)
The Community Technology Center AmeriCorps VISTA Project (rebranded the Transmission Project) placed AmeriCorps VISTA (Volunteers In Service To America) members in community media and technology centers across the country to help bridge the digital divide.
Form 424, which asked for details about the organization.
The project narrative.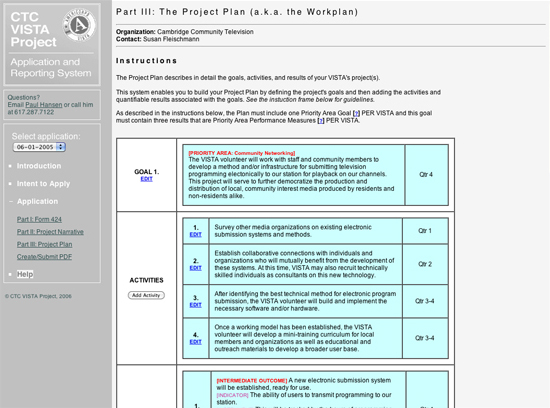 The project plan, which detailed what objectives the VISTA would accomplish.
The organization can both generate a PDF and submit the application electronically.
VISTA members and their supervisors filled out separate question sets.
Supervisors commented on VISTAs' progress achieving the objectives stated in the project plan.
The supervisor could create a PDF for her files and submit the report to the CTC VISTA Project.
A listing of all organizations and applications.
The editor allowed the CTC VISTA Project to create new reports for supervisors to complete, send reminders to supervisors whose reports were overdue, check the submission status of the reports, and convert them to PDF for submission to the Project's parent organization, the Corporation for National and Community Service.
Other Projects for Community Technology Center AmeriCorps VISTA Project